The Wild Food Adventure Series
Edible Wild Plants
Wild Foods from Dirt to Plate
By John Kallas, PhD
"John Kallas has rebranded foraging from 'alternative roughage' to 'five-star dining.' No other wild foods book has this kind of in-depth text, mouth-watering recipes, or eye-popping pictures of culinary delights, such as wild spinach pizza, pickled purslane, and homemade marshmallows."
--Thomas J. Elpel, author of Botany in a Day
Edible Wild Plants: Wild Foods from Dirt to Plate is substantial in content, easy to use, cleverly written, and fun to read. Rich with photographs, it gives the reader the tools to be successful early and often at identifying, gathering, and dining on these plants. Based on the experiences of John Kallas, a life long, full time wild food researcher, teacher, and author, it catapults a novice into many early triumphs, provides plenty of new useful and practical information for the seasoned professional, and offers naturalists a resource from which to teach wild food concepts.

Edible Wild Plants is a pictorial guide to edible plants. It describes them in unprecedented depth, clarity, and in full color-the kind of depth that gives readers confidence in their ability to correctly identify, recognize and finally begin using plants. Three-hundred sharp photographs illustrate different growth stages from seedling to fully mature plant, close-ups of edible parts at their choicest, processing techniques, key recipes, and finished dishes. This book reduces fears of misidentification and takes the mystery out of the discovery process. In no time, readers go beyond just tasting to incorporating these foods into regular meals.

As the first volume of a planned series of books, this one focuses on important, abundant and nutritious wild greens and vegetables. Almost all of them originated in and are native to Europe and are now wide-spread throughout North America. If you can harvest these foods from your local surroundings in a matter of minutes, you are more likely to eat them regularly than if you have to travel to reach more exotic habitats. That is how many of our ancestors ate on a daily basis-from foraged plants growing within a short distance from their kitchens.The following plants are covered in detail from dirt to plate, each illustrated by many beautiful photographs: wild spinach, chickweed, common mallow, purslane, curly dock, broad-leaved dock, sheep sorrel, wood sorrel, field mustard, wintercress, garlic mustard, shepherd's purse, dandelion, cat's ear, sow thistle, and nipplewort. Photographs and varying amounts of information are given for an additional twenty-four plants whose coverage is found using the index. 416 pages. 2010. Gibbs Smith, Publisher. ISBN:978-1-4236-0150-0.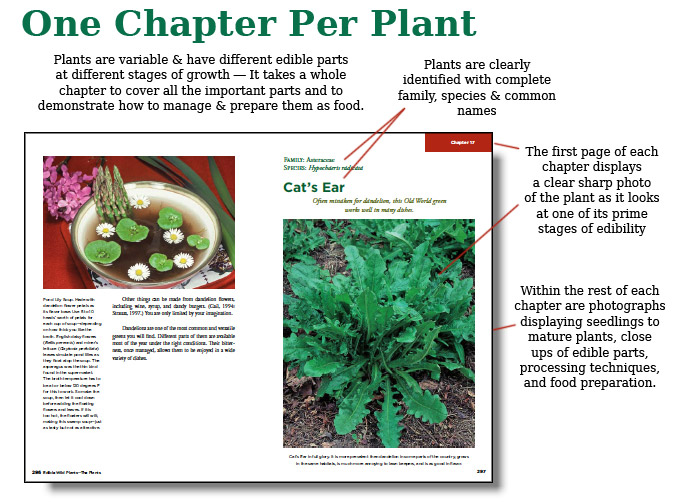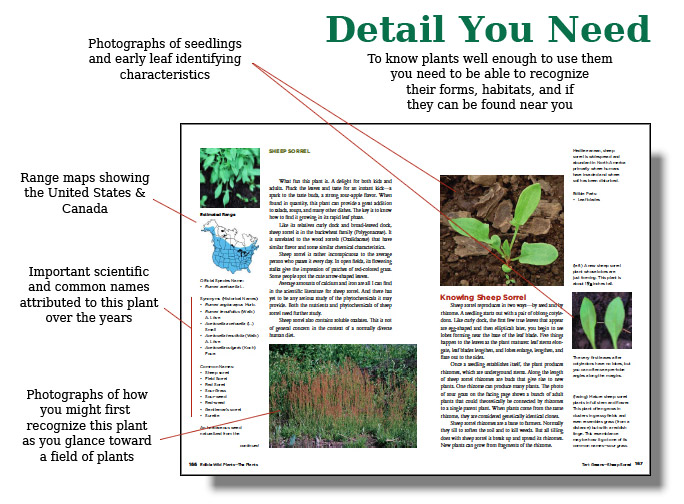 ---


Also be sure to check out Botany in a Day for a unique way to learn about plants and their uses.
Return to the Wildflowers & Weeds Home Page.