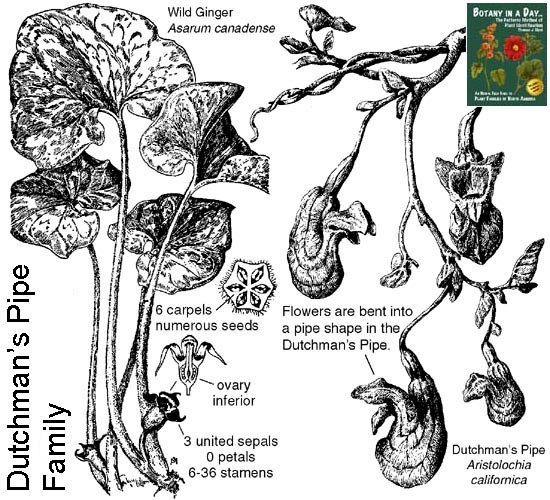 Aristolochiaceae
Plants of the Dutchman's Pipe Family
If you find a low-growing dicot plant with tubular flowers and parts in multiples of three, it is very likely a member of the Dutchman's Pipe family.

Our members of this family have either regular or irregular, bisexual flowers with 3 united sepals, 0 petals, and typically 12 stamens (6 to 36 possible). The ovary is positioned inferior and consists of 6 (sometimes 4) united carpels (syncarpous) with the partition walls present, forming an equal number of chambers. It matures as a capsule with numerous seeds. Most members of this family are tropical plants. Worldwide, there are 7 genera, representing about 400 species.

Medicinally, the pattern of this family is potent volatile oils. The spicy nature of these plants warms the body and stimulates sweating (diaphoretic). Warming the body naturally increases blood flow, so these plants are also listed as having a vasodilator effect. Increased menstruation (emmenagogue) and uterine stimulation (oxytocic) are direct effects of increased blood flow, hence the other common name "birthwort". The contraceptive effect of Asarum may be due to the anthelmintic (worm-killing) effects of the potent volatile oils. Caution is advised.
Key Words: Dicot plants with tubular flowers and parts in threes.
Please e-mail Thomas J. Elpel to report mistakes or to inquire about purchasing high resolution photos of these plants.
---
| | |
| --- | --- |
| Asarum caudatum. Wild Ginger. | Asarum caudatum. Wild Ginger. |
| Aristolochia watsonii. Dutchman's Pipe. Photographed in the Chiricahua Mountains, near Portal, Arizona. | Foraging the Mountain West |
There are more
Dutchman's Pipe Family pictures
at PlantSystematics.org.
---
Return to the Plant Families Index
Return to the Wildflowers & Weeds Home Page