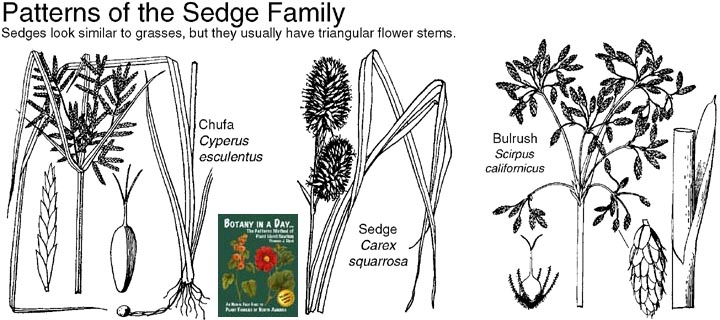 Cyperaceae
Plants of the Sedge Family
"Sedges have edges. Rushes are round. Grasses are hollow. What have you found?" This common rhyme can help you remember the key differences between the Sedge, Rush, and Grass families. Most sedges have triangular stems ("edges"), except for Scripus, which has round stems. Sedges tend to grow in damp ground, often bordering swamps and streams.

Sedges typically have small flowers with the sepals or petals completely absent or reduced to scales, bristles, or hairs. There are typically 3 stamens (sometimes 6 or 1). The ovary is positioned superior and consists of 2 or 3 united carpels, aborting all but one to form a single chamber. It matures as an achene (a dry seed) or a nutlet. The fruit is either lens-shaped or three-sided, the shape dependant on the number of carpels. Worldwide, there are about 100 genera and 4,500 species. Twenty-four genera are found in North America. Members of the Sedge family are mostly edible, although few are worth harvesting. The small, but starchy roots are used similarly to cattail roots.
Key Words: "Sedges have edges."
Please e-mail Thomas J. Elpel to report mistakes or to inquire about purchasing high resolution photos of these plants.
---
| | |
| --- | --- |
| Scirpus tabernaemontani. Great Bulrush. | Scirpus tabernaemontani. Great Bulrush. Harrison Lake. Near Harrison, Montana. |
There are more
Sedge Family pictures
at PlantSystematics.org.
---
Return to the Plant Families Index
Return to the Wildflowers & Weeds Home Page