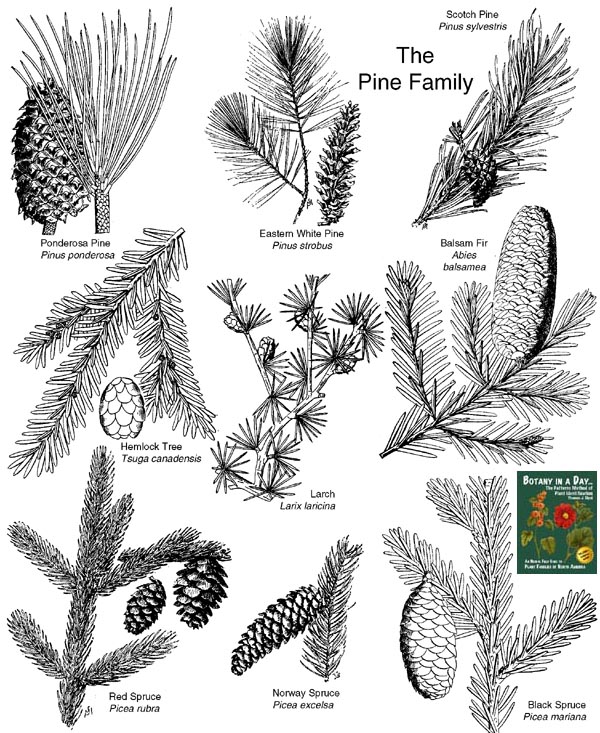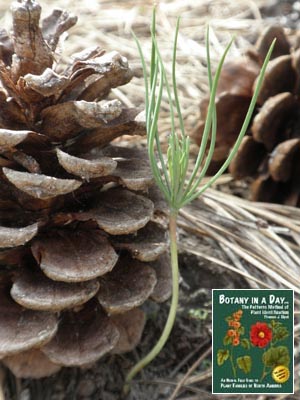 Pinaceae
Plants of the Pine Family
The Pine family are naked seed plants even though the seeds are highly protected under the scales of developing cones. The female cones briefly become elongated, exposing the ovules to the pollen in the wind. The shape of the cones causes air currents to swirl around them to help catch this pollen. The pollen and the cones are aerodynamically matched to each other, so each species captures its own pollen. After pollination, the scales grow rapidly and again cover the ovules, allowing them to mature into seeds. Primitive conifers first came into being about 300 million years ago, but most or all of them are extinct now. The Pine family as we know it originated about 100 million years ago. Worldwide there are 10 genera and 250 species. Our native genera are listed below. Amber is the fossilized pitch from this family.

The Pine family produces edible seeds that are rich in oils, although they are small and difficult to gather from most species. The needles may be used in tea as a beverage, or medicinally for a diuretic. The Pine family is highly resinous, useful for its expectorant properties, but over consumption may lead to kidney complications.
Please e-mail Thomas J. Elpel to report mistakes or to inquire about purchasing high resolution photos of these plants.
---
Pinus contorta. Lodgepole Pine. Male flowers.

Pinus contorta. Lodgepole Pine. Male flowers.

Pinus albicaulis. Whitebark Pine. Mature cone with pine nuts.

Pinus edulis. Pinion Pine. Natural Bridges National Monument. Utah.

Pseudotsuga menziesii. Young Douglas Fir tree.

Pseudotsuga menziesii. Douglas Fir cones.

Pseudotsuga menziesii. Immature Douglas Fir cones.


Tsuga heterophylla. Western Hemlock.
Note that the needles are not even lengths.

Abies lasiocarpa. Subalpine Fir.

Abies lasiocarpa. Subalpine Fir.

Abies grandis. Grand Fir. Photographed near Kettle Falls, Washington.


Foraging the Mountain West

A logging slash pile was burned here. The intense heat sterilizes the soil, and only a handful of invasive weeds can colonize the barren ground. Pony, Montana.

Larix lyallii. Subalpine Larch.
There are more
Pine Family pictures
at PlantSystematics.org.
---
Return to the Plant Families Index
Return to the Wildflowers & Weeds Home Page