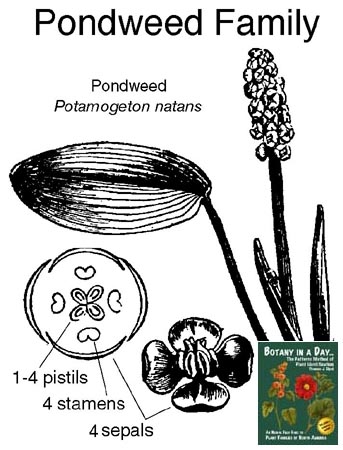 Potamogetonaceae
Plants of the Pondweed Family
Members of Pondweed family are perennial, aquatic herbs, usually found in fresh or salty water rather than swamps. Plants are submerged or submerged and floating, often with narrow leaves underwater and broad leaves on the surface. Flowers are bisexual or rarely unisexual. There are 4 sepals, 0 petals, 4 stamens, and typically 4 (rarely 1) simple pistils, which are positioned superior, each maturing as a single, dry seed (an achene), or sometimes as a drupe (a berry with a stony seed) or nutlet.

Worldwide, there are 6 genera and 120 species. The composition of this family has been rototilled numerous times by taxonomists and may be yet again. North American genera are listed below.
Key Words:
Monocots with submerged and floating leaves
and flower parts in 4s.
Please e-mail Thomas J. Elpel to report mistakes or to inquire about purchasing high resolution photos of these plants.
---
There are more
Pondweed Family pictures
at PlantSystematics.org.
---
Return to the Plant Families Index
Return to the Wildflowers & Weeds Home Page