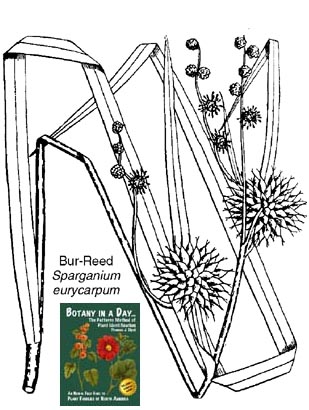 Sparganiaceae
Plants of the Bur-Reed Family
The Bur-Reed family is now considered part of the Cattail family. Although the flowerheads are round, they still develop with male and female flowers in separate heads, with males above the females, like cattails. The flowers of either sex have 3 to 6 membranous "tepals" (either sepals or petals). Male flowers have 3 or more stamens. Female flowers have single ovaries. Worldwide there is 1 genera of bur-reed and about 20 species.
Please e-mail Thomas J. Elpel to report mistakes or to inquire about purchasing high resolution photos of these plants.
---
There are more
Bur-Reed Family pictures
at PlantSystematics.org.
---
Return to the Plant Families Index
Return to the Wildflowers & Weeds Home Page