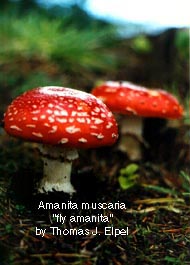 Amanitaceae: The Deadly Amanita Family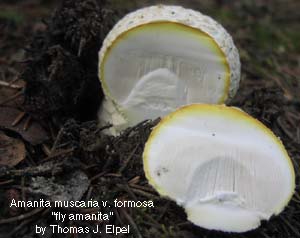 About ninety-percent of all fatalities from eating mushrooms are the result of amanitas, so these are the most important mushrooms to learn first. The amanitas are characterized by a "universal veil" that completely envelopes the young mushrooms, giving them an egg-like shape similar to a puffball. The veil eventually breaks and the cap spreads out into the more familiar toadstool shape. You have to cut across each little puffball to make sure there are no gills inside--otherwise your life might just go puff before your eyes! I was sure shocked the first time I saw an amanita in this stage, because I too was sure I had a puffball.

The bright red fly amanita (Amanita muscaria) pictured on the left looks like it has to be the most deadly mushroom in the world, but it is actually among the more benign members of this family. (The deadliest amanitas are just plain white.) The fly amanita has been used as a hallucinogenic, but it is usually considered unpleasant, and can be fatal in excess. I took that picture out near the Oregon coast. The picture on the right is from the Tobacco Root Mountains here in southwest Montana. It is the same species, but a different variety.
References:
Arora, David. All That the Rain Promises, and More... Ten Speed Press: Berkeley, CA. 1991.
Arora, David. Mushrooms Demystified, Second Edition. Ten Speed Press: Berkeley, CA. 1986.
Phillips, Roger. Mushrooms of North America. Little, Brown & Co.: Boston. 1991.
Schalkwijk-Barendsen, Helene M.E. Mushrooms of Northwest North America. Lone Pine Publishing: Redmond, WA. 1991.
-Check out my favorite mushroom guides.-
Return to the Wildflowers & Weeds Home Page.