Clavariaceae: The Coral Mushroom Family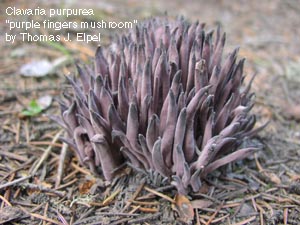 Just like the name suggests, the coral mushrooms typically look like coral, although some might be better described as club-shaped or finger-like. Some are edible and some are not. This first picture was taken near the Oregon coast.

Here in southwest Montana we have an abundance of yellowish coral, also known as "staghorn fungus". Since there are several species of yellowish Ramaria in the books, and I have yet to determine which species we have.

This purple fingers mushroom is quite rare, or at least difficult to find. I photographed this one in a campground at Hyalite Reservoir near Bozeman, Montana. The mushrooms are reported to be edible, but I've never seen enough of them to justify harvesting any.
References:
Arora, David. All That the Rain Promises, and More... Ten Speed Press: Berkeley, CA. 1991.
Arora, David. Mushrooms Demystified, Second Edition. Ten Speed Press: Berkeley, CA. 1986.
Phillips, Roger. Mushrooms of North America. Little, Brown & Co.: Boston. 1991.
Schalkwijk-Barendsen, Helene M.E. Mushrooms of Northwest North America. Lone Pine Publishing: Redmond, WA. 1991.
-Check out my favorite mushroom guides.-
Return to the Wildflowers & Weeds Home Page.