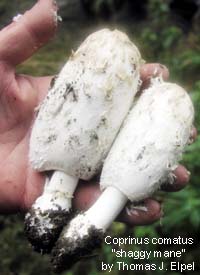 Coprinaceae: The Dung Mushroom Family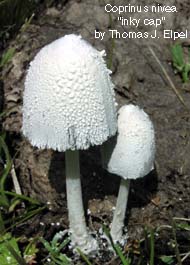 The Dung Mushrooms get their name from the association of some species with manure. The mushrooms help break down manure and recycle the nutrients back to the earth. All members of the family have black to purplish-brown spores. They have cone-like caps and most are quite fragile.

As a child, on walks with my grandmother, we collected inky cap mushrooms (Coprinus nivea) like the mushrooms pictured here. We brought them back to the house to cook them, but they usually dissolved into a black ink in the refrigerator before we ever got around to cooking them. In fact, I cannot recall that we ever actually ate any, but at least once I dipped a feather quill into the black ink and used it to draw with. Inky cap mushrooms contain an enzyme which dissolves the cap from the margin inward as the spores ripen. Most of the spores are dropped before the mushrooms turn to ink.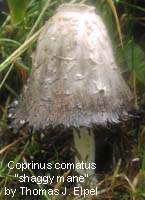 References:
Arora, David. All That the Rain Promises, and More... Ten Speed Press: Berkeley, CA. 1991.
Arora, David. Mushrooms Demystified, Second Edition. Ten Speed Press: Berkeley, CA. 1986.
Phillips, Roger. Mushrooms of North America. Little, Brown & Co.: Boston. 1991.
Schalkwijk-Barendsen, Helene M.E. Mushrooms of Northwest North America. Lone Pine Publishing: Redmond, WA. 1991.
-Check out my favorite mushroom guides.-
Return to the Wildflowers & Weeds Home Page.