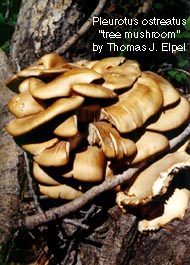 Pleurotaceae: The Tree Mushroom Family
(Sometimes included in the larger family, Tricholomataceae.)
The tree mushrooms are decay fungi. They recycle dead wood, consuming it for nutrients. Of this family I am only familiar with the "tree mushroom" or "oyster mushroom" (Pleurotus ostreatus). Here in Montana the fungus is found growing on cottonwoods and willows, but in other parts of the country they also grow on elms, alders, sycamores, and in California they grow on oaks and tanbark oaks. There are several different forms of this mushroom across North America, with varying colors, but all have been lumped together as one species due to hybridization between them.

When I go mushroom hunting in May I am looking for morel mushrooms, but I always collect a few of these more abundant and easier to find tree mushrooms too. They are especially good food on wilderness survival treks, easy to find and gather in mass quantities, but sometimes old and tough. At home I like to cut the mushrooms into small pieces and fry them, then scramble them with eggs. Tree mushrooms can be frozen and later thawed for use in the home or on camping trips.

Interestingly, oyster mushrooms can be cultivated to break down diapers, which can otherwise last for centuries in a landfill. The fungus breaks down the cellulose in the diapers, decomposing them entirely within four months or so, as reported in The Economist.
References:
Arora, David. All That the Rain Promises, and More... Ten Speed Press: Berkeley, CA. 1991.
Arora, David. Mushrooms Demystified, Second Edition. Ten Speed Press: Berkeley, CA. 1986.
Phillips, Roger. Mushrooms of North America. Little, Brown & Co.: Boston. 1991.
Schalkwijk-Barendsen, Helene M.E. Mushrooms of Northwest North America. Lone Pine Publishing: Redmond, WA. 1991.
-Check out my favorite mushroom guides.-
Return to the Wildflowers & Weeds Home Page.