| | |
| --- | --- |
| Holistic Weed Management (Part I) | Holistic Weed Management (Part II) |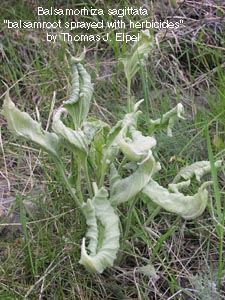 Introduced Weed Profiles & Weed Management
Important: Most "weed problems" are really "people problems" from poor land management and a lack of ecological insight. It is easy to reach for a tool like fire, mowing, or herbicides to attack an out-of-control weed, but often those tools do little to get to the root cause of the weed infestation, and sometimes make the problems worse.

For example, careless use of herbicides kills out many desireable native species and simplifies ecosystems, allowing weeds to re-invade later on. The arrowleaf balsamroot in this picture is one native plant that was sprayed with herbicides.

Be sure to read the range ecology sections of this website before applying any tool of weed control.

Below I've listed additional information on some specific invasive species:

Tom,

My entire career in horticulture, plant care, and identification has been firmly rooted in the lessons I learned from Botany in a Day. The patterns are the most approachable method to dissect plants and then identify them. Thank you for your work and expertise!

--Philip B.