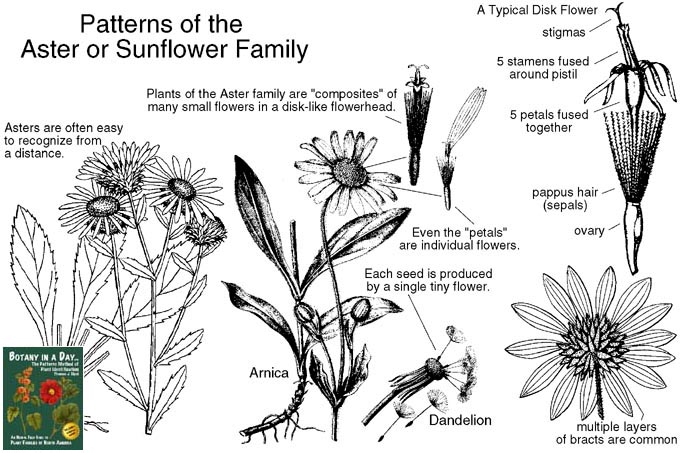 Asteraceae
Plants of the Aster or Sunflower Family
(Previously known as the Composite Family: Compositae)
The uniqueness of the Aster or Sunflower family is that what first seems to be a single large flower is actually a composite of many smaller flowers. Look closely at a sunflower in bloom, and you can see that there are hundreds of little flowers growing on a disk, each producing just one seed. Each "disk flower" has 5 tiny petals fused together, plus 5 stamens fused around a pistil with antennae-like stigmas. Look closely at the big "petals" that ring the outside of the flower head, and you will see that each petal is also a flower, called a "ray flower," with it's petals fused together and hanging to one side. Plants of the Aster family will have either disk flowers, ray flowers, or both. When the seeds are ripe and fall away, you are left with a pitted disk that looks strikingly like a little garden plot where all the tiny flowers were planted.

The flower head is typically wrapped in green sepal-like "bracts" (modified leaves) surrounding the disk. The true sepals (found around individual flowers) have been reduced to small scales, or often transformed into a hairy "pappus", or sometimes eliminated altogether.

One of the best clues for identifying members of this family is to look for the presence of multiple layers of bracts beneath the flowers. In an artichoke, for instance, those are the scale-like pieces we pull off and eat. Most members of this family do not have quite that many bracts, but there are frequently two or more rows. This is not a foolproof test, only a common pattern of the Aster family. Next, look inside the flower head for the presence of the little disk and ray flowers. Even the common yarrow, with its tiny flower heads, usually has a dozen or more nearly microscopic flowers inside each head, and the inside of a sagebrush flower head is even smaller. Keep in mind that many members of this family have no obvious outer ring of petals, including sagebrush.

The Asters are the largest family of flowering plants in the northern latitudes, with 920 genera and 19,000 species found worldwide, including 346 genera and 2,687 species in the U.S. and Canada. Only the Orchid family is larger, but it is mostly restricted to the tropics.

Many flowers from the Aster family are cultivated as ornamentals, including Marigold, Chrysanthemum, Calendula, and Zinnia. Surprisingly few are cultivated as food plants other than lettuce, artichoke, endive, plus the seeds and oil of the sunflower.

The Aster family includes many subfamilies, only a few of which are native to North America. The Chicory/Dandelion subfamily and Aster subfamily have long been recognized by taxonomists. The Thistle and Mutisia subfamilies were formerly classified as tribes withn the Aster subfamily, but recently reclassified and promoted as subfamilies themselves. Check each of the subfamilies below for the best match to your specimen.
Key Words: Composite flowers in disk-like heads.
North American Subfamilies of the Aster Family
Click on the links below to see photos and learn more about each subfamily of the Aster family.

Chicory / Dandelion Subfamily | Thistle / Artichoke Subfamily | Aster Subfamily
There are more
Aster Family pictures
at PlantSystematics.org.
---
Return to the Plant Families Index
Return to the Wildflowers & Weeds Home Page