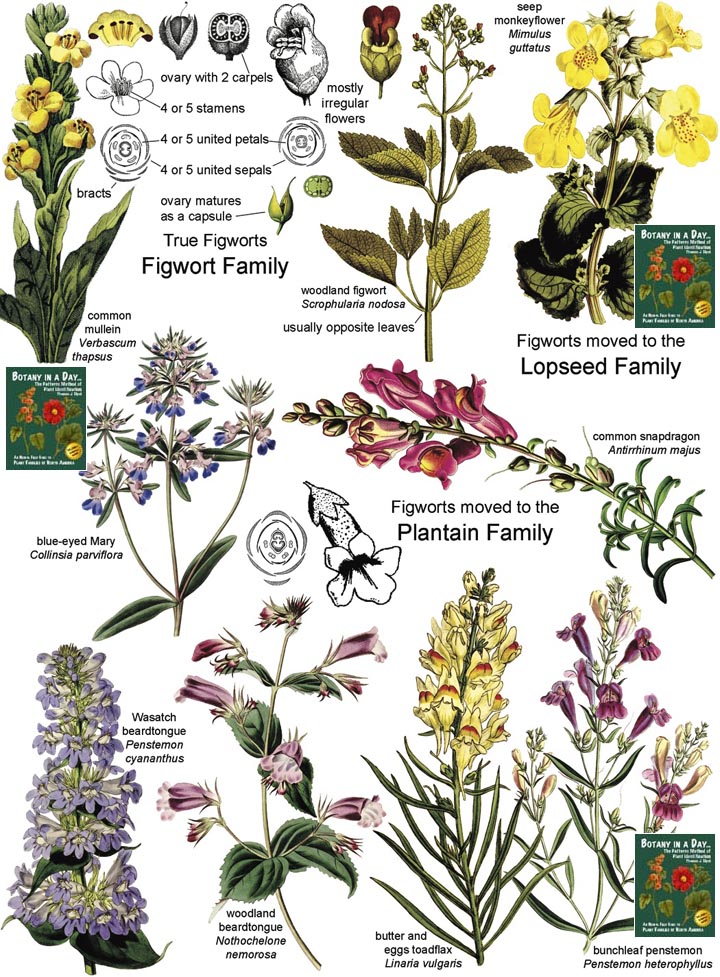 Scrophulariaceae
Plants of the Figwort Family
The Figwort family got gutted in the taxononic name game. This was a magnificent family with fairly intuitive patterns for identification, but most Figwort genera have been reclassified according to genetic evidence into the closely related Plantain, Lopseed, and Broomrape families. The Acanthus and Bladderwort families also have figwort-like flowers. Unfortunately, all of these families are now more complicated to identify, and the remaining genera in the Figwort family lack strong patterns between them. Nevertheless, being able to recognize a typical figwort-like flower remains an essential step for identifying any of these six closely related families.

The Figworts and their allies typically have irregular, bisexual flowers with 5 united sepals and 5 united petals (sometimes 4 of each), usually 2-lipped with 2 lobes up and 3 lobes down. There are 4 or 5 stamens, often in two pairs, plus a shortened fifth stamen. The ovary is positioned superior and consists of 2 united carpels with the partition walls present, forming 2 chambers. It typically matures as a capsule containing many seeds. The dried up style of the pistil can often be seen at the tip of the capsule. Be sure to cross-check your specimen with each of the figwort-like families listed above.
Key Words: Irregular flowers with 2 petal lobes up and 3 down. Capsules with numerous seeds.
Please e-mail Thomas J. Elpel to report mistakes or to inquire about purchasing high resolution photos of these plants.
---
| | |
| --- | --- |
| Scrophularia californica. California Figwort. | Scrophularia californica. California Figwort. |
| Verbascum thapsus. Mullein. The dried flower stalk makes a great drill for handdrill fire-starting. Learn how in Participating in Nature. | Verbascum thapsus. Mullein. Hungry Horse Reservoir. Montana. Mullein is an introduced, sometimes invasive weed from Eurasia. |
| Verbascum virgatum. Wand Mullein. | Verbascum virgatum. Wand Mullein. Photographed in California. |
| Butterfly Bush: Buddleia sp. Flower parts in 4s or 5s. Introduced for cultivation. The wavy petal edges resemble the Verbena family, but it has been historically classified in the Logania family (Loganiaceae) or its own family (Buddlejaceae), and now in the Figwort family. | Butterfly Bush: Buddleia sp. There are many different species of butterfly bush, native to Asia, Africa, and the Americas. |
There are more
Figwort Family pictures
at PlantSystematics.org.


Check out Botany in a Day
Return to the Plant Families Index

Return to the Wildflowers & Weeds Home Page