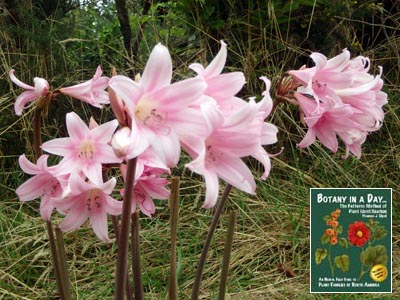 Cultivated Flowers of New Zealand
Introduced Garden Flowers
from around the World
Botanizing New Zealand took me back to my childhood. I lived in California, where the mild Mediterranean climate was glorious for gardening. I had my own playhouse, garden, and a nice flowerbed of geraniums. That is the one thing I miss living in Montana. We have great wildflowers, yet not much for cultivated flowers. I still have a nice flowerbed of geraniums, but I grow them in the greenhouse, attached to my house, where it never freezes. Ditto for amaryllis, which is grown indoors in flowerpots. So it was really exciting to travel to New Zealand, with its wonderful Mediterranean climate and the opportunity to reconnect with many cultivated flowers I knew as a child and the opportunity to discover other species that are entirely new to me.

I really enjoyed all the hibiscus blossoms around New Zealand towns, as well as the agapanthus, fuchsia, grape vines, and the occasional bouganvillea. In several towns we encountered amaryllis (Amaryllis belladonna), like the flowers shown here, growing in flowerbeds or along city sidewalks, which is really exciting to a northlander like me!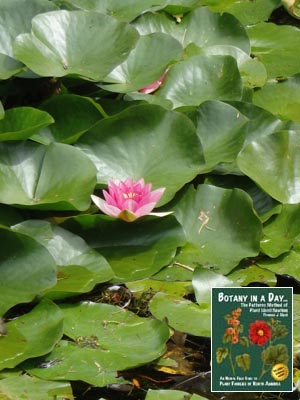 One of the biggest thrills of any botanical expedition is recognizing plants that I've never seen before. That is the beauty of learning plant family patterns. Learn a pattern, and you can recognize that pattern in unique species all around the globe. For example, walking down a street in Whangarei, I noticed a plant with little white flowers and big, inflated, bladder-like seed pods. The plant seemed utterly alien for all of about one second, when I recognized it as an obvious milkweed (shown below). I recognized the flowers first, similar to our own milkweeds, but smaller and white. The inflated bladder-like seed pods instantly made sense as a milkweed variant, and I confirmed that the plant also had opposite leaves and milky juice. It was definitely a milkweed! This plant was simultaneously very different from and very similar to other milkweeds I've seen, applying familiar old patterns in intriguing new ways. Most likely the milkweed was introduced, as was the monarch butterfly that flew out of it.

Anyone who has studied milkweeds in North America, and is also familiar with the concept of plant family patterns, would have easily recognized this plant as a milkweed. Conversely, anyone who used Botany in a Day: The Patterns Method of Plant Identification to learn plant family patterns in New Zealand could just as easily carry that experience to North America and discover that our milkweeds look familiar but different from those they learned back on the islands.

The gallery below is just a small sampling of some of the cultivated flowers in New Zealand. Cultivated flowers often escape to become weeds in favorable conditions, and the tiger lily could easily be included with the Introduced Weeds. Anyone who is new to plant identification would do very well working with Botany in a Day among the showy flowers in and around New Zealand towns.

Please send me an e-mail to report mistakes or to inquire about purchasing high resolution photos of these plants.
Botanizing New Zealand
1. Intro and Mangroves | 2. Introduced Weeds | 3. Cultivated Flowers
4. Introduced Trees & Shrubs | 5. Podocarps & Araucarians | 6. Native Flowers, Shrubs, & Trees
| | |
| --- | --- |
| Balloonplant: Asclepias physocarpa. Balloon plant is a member of the former Milkweed Family, now considered part of the Dogbane Family, native to southeast Africa. | Balloonplant: Asclepias physocarpa. Also known as Gomphocarpus physocarpus. |
Tiger Lily: Lilium lancifolium. This is one of several species popularly called "tiger lilies." It is a member of the Lily Family native to northern and eastern Asia. It has become naturalized in some parts of New Zealand.

Common Agapanthus: Agapanthus praecox. is a member of the Amaryllis Family (once considered part of the Lily Family) native to South Africa and widely planted in New Zealand and other warm temperate climates around the globe.
| | |
| --- | --- |
| Gladiolus: Gladiolus sp. The many species and varieties of Gladiolus are members of the Iris Family native to Mediterranean Europe, southern Asia, and South Africa. They are widely planted around the world. | Crimson Flag: Hesperantha coccinea. Crimson Flag is a member of the Iris Family native to South Africa and Zimbabwe, and cultivated in suitable climates elsewhere. |
Looking for life-changing resources? Check out these books by Thomas J. Elpel: