Native Plants of New Zealand
Flowers, Shrubs, and Trees
New Zealand is very diverse, with rainforests, deserts, oceans, mountains, and glaciers all very near each other. Botanically, every inch of the country is rich with flowers, shrubs, and trees, native and introduced. I especially loved all the native tree ferns, and I wish I had more time to study them. New Zealand was like a botanical garden show-casing plants and trees from all over the world. But I was most interested to learn about and discover some of the species that are native to New Zealand and the South Pacific.



It is always thrilling to recognize a familiar pattern, especially so far from my usual haunts in North America. For example, on South Island I encountered some white, bell-shaped flowers (shown below) that suspiciously resembled our blue and purple harebells at home. Since milky sap is common in the Harebell Family, I broke a stem and checked the sap. I found just a trace of milky sap, good evidence that it was in fact a type of harebell, a hypothesis easily confirmed by doing an online search for "New Zealand harebell." That's what I love about plant family patterns. The same pattern works just as well in New Zealand, eight thousand miles from home, as it does in my own backyard. One of my goals for the trip was to find out whether or not Botany in a Day would be a useful tool for plant identification down under. It certainly worked well on the scores of introduced weeds and cultivated flowers and trees, and I was glad to see that it also worked well with at least some of the native species.


It should be noted, however, that Botany in a Day is optimized for North American readers, and some of the family descriptions apply specifically to species found in the northern latitudes. Plants outside North America that vary from the core patterns were intentionally excluded from the text. For example, the Violet Family, as described in Botany in a Day, applies only to herbs. One would not guess from appearances that New Zealand's whiteywood tree (Melicytus ramiflorus) is actually part of the Violet Family. There were a number of exceptions like that among New Zealand's native vegetation, especially the shrubs and trees.

New Zealand also has a great many trees, shrubs, and herbs from plant families that are utterly new and unfamiliar to me. On the one hand, it is exhilarating to discover new plants and new plant families. On the other hand, I hesitate to fill up my brain with too much information that seems useful only if should return to New Zealand again someday!

Prior to my trip, I ordered Andrew Crowe's Mini Guide to the Identification of New Zealand Native Trees. It is a nice little book, except that it lacked family names, so I looked up each tree on Wikipedia prior to the adventure, and I wrote the family names in the book for reference, which proved to be a useful learning aid along the way. It didn't take me long to become absorbed with trying to learn every plant I could! I was able to identify many of the species in the book, and numerous other species as well.

Overall, I was greatly satisfied with the botanical expedition as it was. Botany in a Day is especially useful for identifying many or most of the showy flowers a person is likely to encounter. I came to New Zealand wondering if the environment might seem entirely alien to me, but I found it strikingly familiar to other places I have been, yet with many exciting new plants that I'd never seen before. And as much as I enjoy identifying new plants, I actually loathe the idea of knowing them all and having none left to discover!

Please send me an e-mail to report mistakes or to inquire about purchasing high resolution photos of these plants.
Botanizing New Zealand
1. Intro and Mangroves | 2. Introduced Weeds | 3. Cultivated Flowers
4. Introduced Trees & Shrubs | 5. Podocarps & Araucarians | 6. Native Flowers, Shrubs, & Trees
Larger Bindweed: Calystegia sepium.
Morning Glory Family

Larger Bindweed: Calystegia sepium.
Flowers can be all white, or pink with a white star.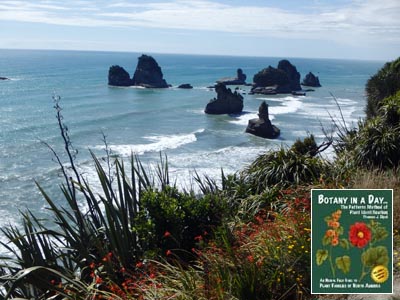 Botanizing New Zealand
1. Intro and Mangroves | 2. Introduced Weeds | 3. Cultivated Flowers
4. Introduced Trees & Shrubs | 5. Podocarps & Araucarians | 6. Native Flowers, Shrubs, & Trees


Check out Botany in a Day
Return to the Wildflowers & Weeds Home Page