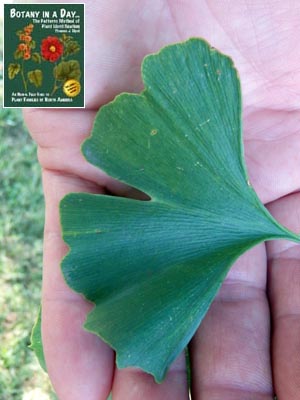 Trees and Shrubs of New Zealand
Introduced and Cultivated Species
I loved exploring the trees and shrubs of New Zealand. At home, in cold and arid Montana, our forests have very low species diversity, so I always enjoy traveling to warmer climates to discover new trees. It was especially thrilling to tour the amazing diversity of New Zealand to see the native trees and shrubs, the podocarps and also the many introduced and cultivated trees and shrubs found throughout the country.

Many of the introduced species may be familiar to North American visitors, such as red oak, magnolias and tulip trees, birch trees, witch hazel, maples, walnuts, chestnuts, plums, pines, ash trees, citrus trees, and many more. The gallery below is just a sampling of some of the introduced trees and shrubs found in New Zealand. Botany in a Day: The Patterns Method of Plant Identification works well to identify most cultivars for anyone who doesn't know the trees already.



I hauled my own book all over the country, geeking out on native and introduced trees and flowers. I was able to familiarize myself with many tree species native or cultivated in North America, but not found at home in Montana. It was a real thrill to encounter several ginkgo trees (Ginkgo biloba) in New Zealand towns, as pictured here and below. Ginkgo is a living fossil, still similar to 270 million year old fossils of the tree. It isn't classified as a flowering plant like other broadleaf trees, nor is it a naked seed like pine trees. Ginkgo biloba is classified as a unique division of the plant kingdom, and it is the only surviving species of the entire linage. It is almost like encountering a dinosaur at Jurassic Park, but without the teeth!

Scroll down the page for a sampling of other trees and shrubs we encountered in New Zealand. Please send me an e-mail to report mistakes or to inquire about purchasing high resolution photos of these plants.
Botanizing New Zealand
1. Intro and Mangroves | 2. Introduced Weeds | 3. Cultivated Flowers
4. Introduced Trees & Shrubs | 5. Podocarps & Araucarians | 6. Native Flowers, Shrubs, & Trees
Ginkgo / Maidenhair Tree: Ginkgo biloba. Oringally native to China, ginkgo is now cultivated in Mediterranean climates around the world .

Ginkgo / Maidenhair Tree: Ginkgo biloba.
| | |
| --- | --- |
| Butterfly Bush: Buddleia sp. Flowers of the butterfly bush greatly resemble flowers of the Verbena Family, however, the shrub is actually classified as a member of the Figwort Family. | Butterfly Bush: Buddleia sp. There are many different species of butterfly bush, native to Asia, Africa, and the Americas. |
| | |
| --- | --- |
| Pyramid Tree: Lagunaria patersonii. Pyramid tree is a member of the Mallow Family native to South Pacific islands and northeastern Australia. | Polygala: Polygala myrtifolia. Polygala is a member of the Milkwort Family native to South Africa, but widely planted and sometimes naturalized in Mediterranean climates around the world. |
| | |
| --- | --- |
| Magnolia: Magnolia sp. There are many species of magnolia in the Magnolia Family, widely cultivated in Mediterranean climates. | Silk Tree: Albizia sp. Silk trees belong to the Mimosa Subfamily of the Pea Family native to tropical regions around the world. |
| | |
| --- | --- |
| Pomegranate: Punica granatum. Pomegranate is a member of the Loosestrife Family native to Iran and northern India. It has been cultivated for thousands of years, and is now widely planted in Mediterranean climates around the world. | Pomegranate: Punica granatum. |
| | |
| --- | --- |
| Eucalyptus: Eucalyptus sp. There are hundreds of species of eucalyptus in the Myrtle Family native to Australia. New Guinea, Indonesia and the Philippines. Eucalyptus has been introduced to suitable climates around the world, often becoming naturalized or invasive. | Canary Island Date Palm: Phoenix canariensis. Canary Island date palm is a member of the Palm Family native to the Canary Islands off the northwest coast of Africa. The tree is widely cultivated as an ornamental in suitable climates. The fruit is edible, although not as good as the true date palm ( Phoenix dactylifera ). |
| | |
| --- | --- |
| American sweetgum: Liquidambar styraciflua. Traditionally classified as a member of the Wild carrot is a member of the Witch Hazel Family, sweetgum is now segregated into the Altingia Family. | Tulip Tree: Liriodendron sp. Tulip tree is a member of the Magnolia Family native to eastern North America. |
| | |
| --- | --- |
| Horse Chestnut: Aesculus hippocastanum. Horse chestnut is a member of the Soapberry Family native to southeastern Europe, but widely cultivated in temperate climates around the world. | Basswood / Linden: Tilia sp. Formerly classified as the Linden Family, taxonomists have merged the the family into the Mallow Family. The trees are native to the northern latitudes, but are now widely cultivated around the world. |
| | |
| --- | --- |
| Chestnut: Castanea sp. Chestnut is a member of the Beech Family native to the northern hemisphere. | Chestnut: Castanea sp. |
| | |
| --- | --- |
| Douglas Fir: Pseudotsuga menziesii. Douglas fir is a member of the Pine Family native to western North America. It is widely cultivated in New Zealand as a source of timber.. | She-Oak: Casuarina equisetifolia. She-oak looks like something from the Pine family, but it is actually a flowering tree in the She-Oak Family, somewhat related to the Beech family. It is native to southeast Asia, Australia, and islands in between. |
Botanizing New Zealand
1. Intro and Mangroves | 2. Introduced Weeds | 3. Cultivated Flowers
4. Introduced Trees & Shrubs | 5. Podocarps & Araucarians | 6. Native Flowers, Shrubs, & Trees


Check out Botany in a Day
Return to the Wildflowers & Weeds Home Page